In October 2014 we were delighted to be chosen by Ashoka Ireland as one of the first five Changemaker Schools in Ireland. There are now 11 Changemaker schools in Ireland and a network of Changemaker schools all over the world. Ashoka Ireland searches for schools that are nurturing four key skills: empathy, teamwork, leadership and creativity. We were anonymously nominated for this award . Our Cambodian partnership, the promotion of our students as global citizens, work on conflict resolution including peer mediation, our active student council, human rights' month and positive mental health have all contributed to us achieving this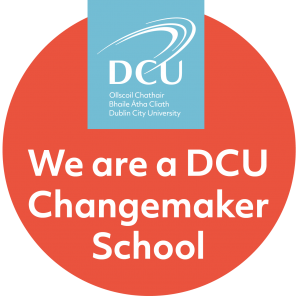 Changemaker award. One of the best things about the Changemaker network is that it connects schools all over the world and allows educators and students to learn from each other. Last year we were delighted to host a visit from Eglish National School in rural County Galway. This school has done incredible work in encouraging student empowerment and public speaking. During a visit to Our Lady & Saint Mochua's in Armagh we learned all about the Roots of Empathy programme which is enjoyed by our 2 nd class students each year. A trip to Galway Educate Together taught us all about Playworks, an inclusive approach to games at yard time.
Throughout the 2017/2018 school year the children have learnt all about the Sustainable Development Goals – a comprehensive plan for our planet and its people.  The United Nations' Sustainable Development Goals aim to put an end to poverty, hunger and inequality worldwide. Ireland is one of 192 countries that have signed up to achieve these goals by 2030.  In the year ahead we will continue to work hard as a school to raise awareness of the Sustainable Development Goals.
We hope that our engagement with Ashoka Ireland will enhance the learning experiences of our students in the years ahead and will nurture in them the skills needed to make the world a better place.