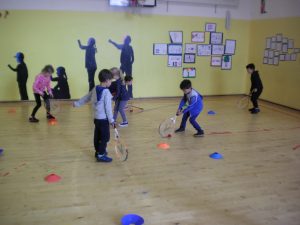 We were very lucky to have coaches in from Tennis Ireland on Friday 4th October.
Senior Infants were excited to play tennis. Some of the children had played tennis before and were able to name the things we would need.
We went to the hall and tried out lots of new skills using a tennis ball and racket. We started off rolling the tennis ball to our partner between two cones. After five attempts we had the challenge of bringing the cones closer together! After that we each got a racket and pushed the ball to our partners. We had to count the longest rally we had with our partners.
We had lots of fun and are looking forward to playing tennis again! Thanks again Tennis Ireland for coming in to visit us.