We celebrated World Book Day on Thursday March 07th in DPETNS with an array of different activities. The school was a hive of activity with books being celebrated in a range of ways.
Bunting Competition
Children were invited to participate in a 'Bunting Competition' using their illustration skills to represent their favourite book or character in a book, on a piece of bunting. The entries at each class level were amazing with judges finding it extremely difficult to select their favourite bunting entry. Winning entries were eventually selected and awarded a €15 Eason voucher. Susan announced the winners over the intercom and the proud winners were presented with their voucher in the library by Maeve. There was wonderful excitement around the school! We would like to thank all the children for their wonderful efforts and particularly congratulate our 'Bunting Competition' winners. Check out our winners receiving their certificates and prize here: http://www.dpetns.ie/gallery/world-book-day-2019/
Winning entries at each class level were:
Roisin's Junior Infants: Robyn Regan                       James' 3rd Class: Harry Parnell
Aideen's Junior Infants: Saoirse Feehan                  Eimear's 3rd Class: Caitlin O'Farrell
Patricia's Senior Infants: Bonnie Purcell                  Cormac's 4th Class: Joe Shortall
Mary's Senior Infants: Aisling Costello                      Danny's 4th Class: Katie Bryans
Meaghan's 1st Class: Lucia Hermosilla                       AnnMarie's 5th Class: Aidan Bukove
Róisín H 1st Class: Juliette Parnell                              Ger's 5th Class: Isabelle Kilcoyne
Ann's 2nd Class: Alfie Shaw                                           Aimee's 6th Class: Jessica Hannigan
Fiona's 2nd Class: Mila Downes                                   Jenny's 6th Class: Éabha O'Farrell
Sinéad's Class: Noah Willis                                           Lyndsy's Class: Anton Roux
Story Telling
During World Book Day children enjoyed a visit from an adult who read a chapter of their favourite book or a book that they really enjoyed from their childhood. This caused great excitement and children experienced a range of different books being presented to them.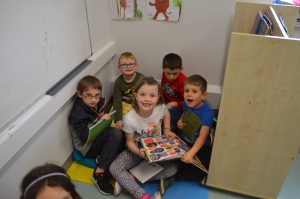 In Aideen's Junior Infants children heard the story 'Mrs Honey's Hat' by Linda R and participated in selecting the items that came off or went onto Mrs Honey's Hat by using the puppet of Mrs Honey. They also illustrated their favourite part of the book in their own unique style. Róisin D's Junior Infants had a visit from Aileen who read one of her favourite children's books 'Hairy MacLary'. They made bunting and bookmarks and read some of the children's favourite books at the end of the day.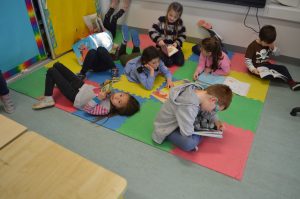 Children in Senior Infants enjoyed either Mrs Honey's Hat being read by Antoinette or the story 'The Crayon That Quit' with Angela. Both stories enthralled their audiences!
In Meaghans 1st Class the children were lucky enough to have a lion present to read 'The Wizard of Oz' to them. They enjoyed the sound effects and also the fact that someone (Ciara) dressed up for them! They also had Karen come in to read some of 'The Twits' and 'The Friendliest Giant'. The class had time to read, chat and discuss their favourite book with their peers and also with the class. Róisin's 1st Class also were delighted with the story 'Giraffes Can't Dance' that Aimée read with them and loved the moral of the story that we can do anything we set our minds to, once we have the correct mindset!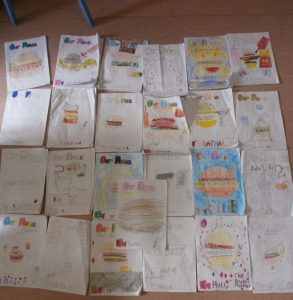 Ann's 2nd class celebrated World Book day by reading a variety of different books throughout the day. They read Bran ag Cuardach in the morning. During the 'Reflective Pause' they listened to Hairy MacLary. They also finished their novel "The Perfect Hamburger" and wrote a book report to go with this. Aideen came to visit them and read an extract from Harry Potter which was so exciting!
The children in Fiona's 2nd class interviewed a member of their family about what their favourite book was when they were a child. It was so interesting to hear what books their parents liked!  They were also visited by Theresa who read them an extract from one of the Diary of a Wimpy Kid books.
In Eimear's Third class the children listened to stories about an inspiring woman and man, picked by Finn C and Sadbh, and read beautifully by their lovely guest, Esther. They enjoyed creating their class bunting with pictures of their favourite books and seeing them displayed in the library.
In Cormac's 4th Class, Róisín Howley read Ned's Circle of Marvels and children really enjoyed the experience. Danny's 4th Class had the pleasure of a visit from the much renowned storyteller, Antoinette. Antoinette lived up to all the hype. She read the story 'The Smartest Giant In Town' and it was enjoyed very much. 4th class really enjoyed the message that was delivered in this story, learning that what is on the inside is what really matters.
In Geraldine's 5th class, Deborah introduced them to the book 'When Hitler Stole Pink Rabbit' by Judith Kerr.  They loved it so much, they have decided to keep reading it as their class book for snack time each day. Thanks Deborah!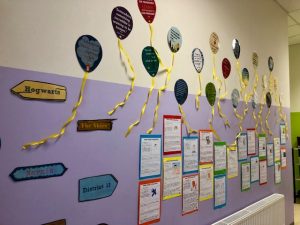 Aimée's 6th Class read some poetry favourites of Cormac's including 'I Wandered Lonely As A Cloud' by Wordsworth, 'The Road Not Taken' by Frost and then "Still I Rise" by Maya Angelou. They also enjoyed a part of the book "Battle" by Paul O'Connell. Paul was an inspirational rugby captain of Munster, Ireland and the British and Irish Lions.  This book looked at how his career ended through injury and his psychology in striving to drive himself to try and be the best no matter what the task at hand was. A lesson we all can learn from. We focused on our reading during homework and wrote some fact files on our favourite authors. We even celebrated World Book Day through Gaeilge by designing book covers and writing blurbs as Gaeilge.
Jenny's 6th Class had James come to visit and read some great stories. We had lots of discussion about our favourite books and characters. We created character profiles from the stories we love and watched some stories read aloud by celebrities like Oprah and Chris O'Dowd.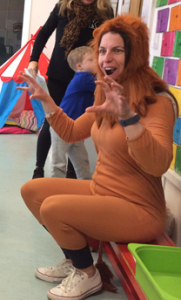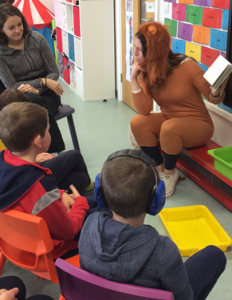 Sinéad's Class really enjoyed Ciara's visit to their classroom for World Book Day. Ciara read 'Dear Zoo' by Rod Campbell. There was great excitement when she dressed up as a fierce lion. They hope she visits again soon!!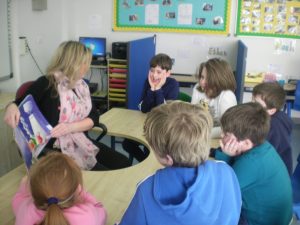 Lyndsy's class really loved celebrating World Book Day this year. Alison Maher came to their class and read a story. It was a very funny story about aliens and underpants and the boys absolutely loved it!
Book Marks
Children got the opportunity to design their own book marks to allow them to personalise their own experience of reading. An wide variety of book marks were created and on display in classrooms
Video
During the course of the day children at each class level got the opportunity to identify and describe their favourite book and this video is available to see on the school website also. Thank you to all our participants and to Aimee for creating it.
Library
To end World Book Day all of the Bunting entries were displayed in the library with the ceiling now awash with colour amid a sky of illustrations. This adds to the lovely, calm atmosphere which is already present in our school library.
World Book Day was celebrated in style and children were excited to think about what book they will buy with their book voucher. Hopefully next year's World Book Day will reflect some of the books that children are eagerly selecting right now!