This year our January tour took us all the way up to Belfast. We left school early to spend the day 'up North'. The bus was very cool and we got to watch a movie. When we reached Belfast we visited The Titanic Museum, where we had a tour and workshop, W5 and, of course, Pizza Hut!
On the Titanic museum tour we did a lot of cool stuff. We started with the workshop. During the workshop we got to work in teams and decide what we would bring aboard a lifeboat in case of emergency at sea. The staff then gave us scores and we got to see if we would have survived or not. Luckily, we all survived!! We also got to sit in real lifeboats.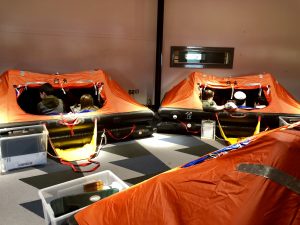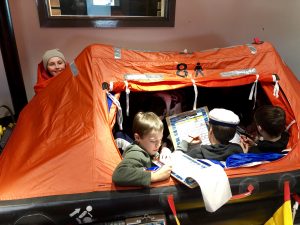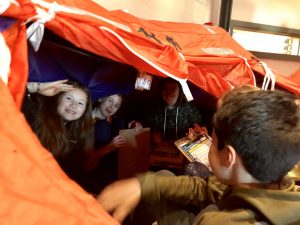 Then we headed on the tour. First we met our guide down at the main entrance and we all got a little audio headset. The tour guide had a microphone connected to our headphones so we could hear her. Next we went upstairs and looked at this wall made of the hull of sunken ships. Then we went into this big room with loads of walls with videos being projected on them about living in Belfast, where the idea of the Titanic came from and working conditions. After that we went to this place with a big tall metal structure which showed you the height of the gantry the Titanic was built in. There was a lift behind the gantry and we went up to the top of the lift. When we got to the top we boarded the cable car ride. This took you through the building of the Titanic, you could see, hear and feel the whole experience. After this, we viewed and compared the three cabins that were available for passengers, before finishing our tour.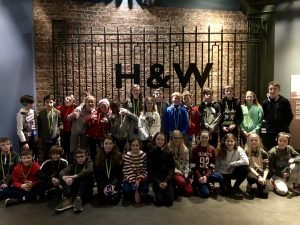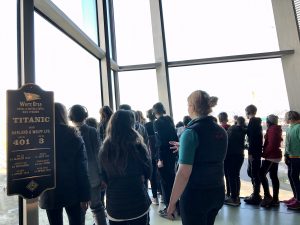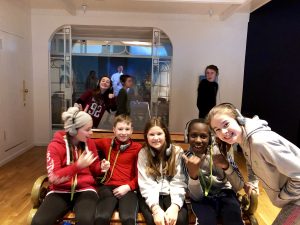 We walked around Belfast Harbour to get to the W5 science center and went through the group entrance. When we got in, we had a minute to see the two science experiments on the ground floor. A man came over to us and brought us to a room, where he told us what to and what not to do. After, we went and put our bags and jackets into bins and we went to level 3 and ran around for an hour looking at different science experiments. One of them, was a tug of war experiment, one side of the rope was near the bottom, the other was near the top. After an hour, we went in groups of 12 to the ClimbIt, which was a climbing frame in the facility, after 15 minutes, we swapped which group had a go. 60 minutes later, we went up to floor 5, which had a bunch of other science experiments, one was virtual reality, where there was a camera, and on a giant screen dinosaurs were walking by and standing.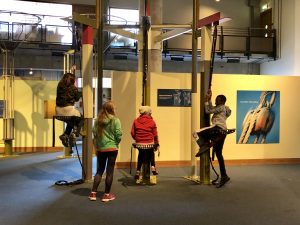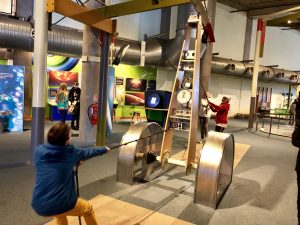 Last but not least, we headed to Pizza Hut to grab some food before hitting the road home. We had so much pizza and garlic bread, we were stuffed and knackered heading back to Dublin.
Overall, it was a fantastic day and everybody had so much fun! We would definitely recommend both the Titanic Museum and W5 to anyone visiting Belfast! Check out some more of our photos here: